JOYEE spas compare with other China spas suppliers
For a product like the outdoor spa, if you only filter suppliers based on the number of jets and product price,
it may not be enough. It is estimated that if you ignore many details, it will affect the subsequent use, or the
product life will not be too long.
1.
INSULATION FORM FOR SPAS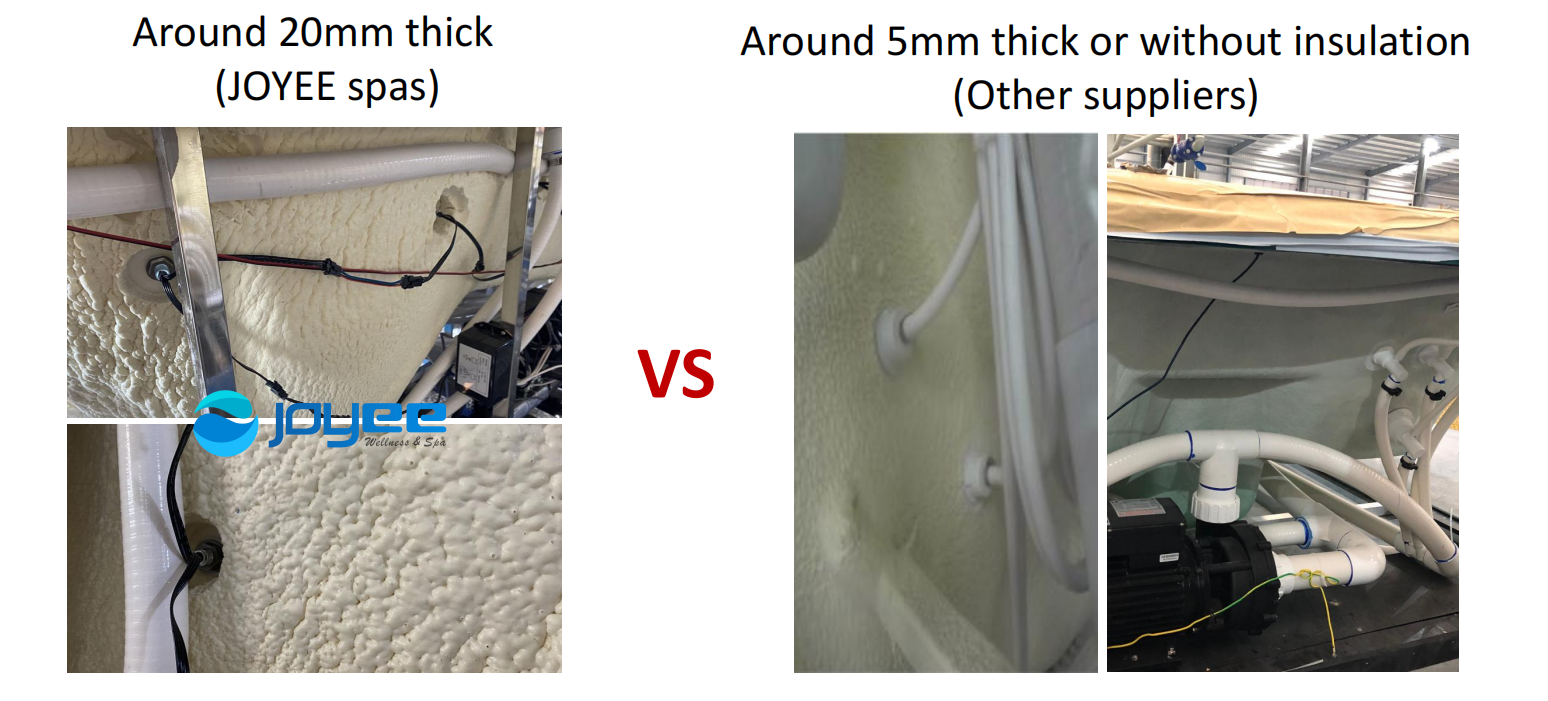 Do you want to save more energy when you use a spa? If yes, JOYEE spas can help you, the entire spa body
is covered with about 20mm high-dense polyurethane foam for better insulation effect. So it can not only help
you to save more energy and money, but also you can enjoy the green and low carbon life to make contribution
to the world environment. Moreover, the good insulation foam can help your spa work well in the Nordic winter.

2.INSULATION FORM FOR CABINET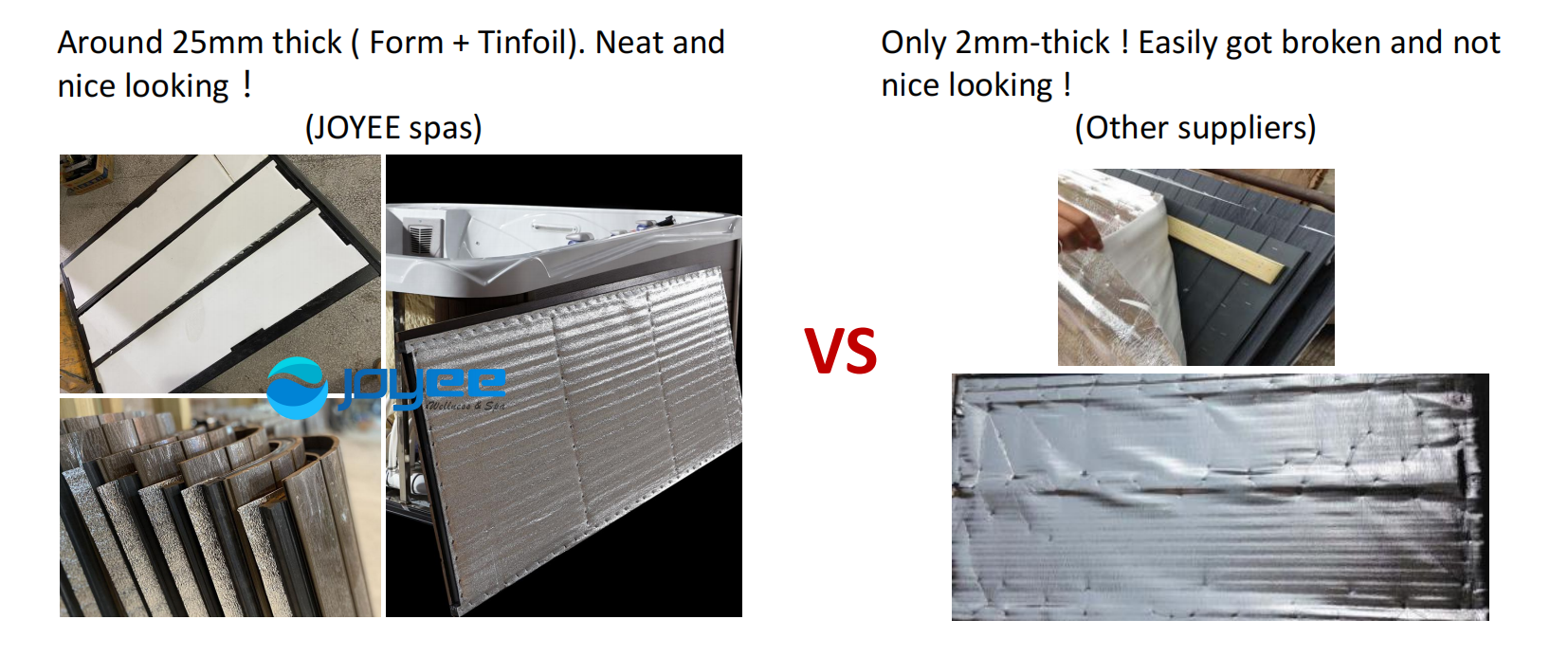 It will reduce the noise of equipment when the hot tub working. There are steel frames to strengthen the cabinet
so it is much stronger than other spas. The inner side of spa cabinet is covered with 25mm thick insulation form
& aluminum foil insulation. Nordic heat lock principals save energy over most spas.

3.BALL VALVES FRONT AND BACK OF EACH PUMP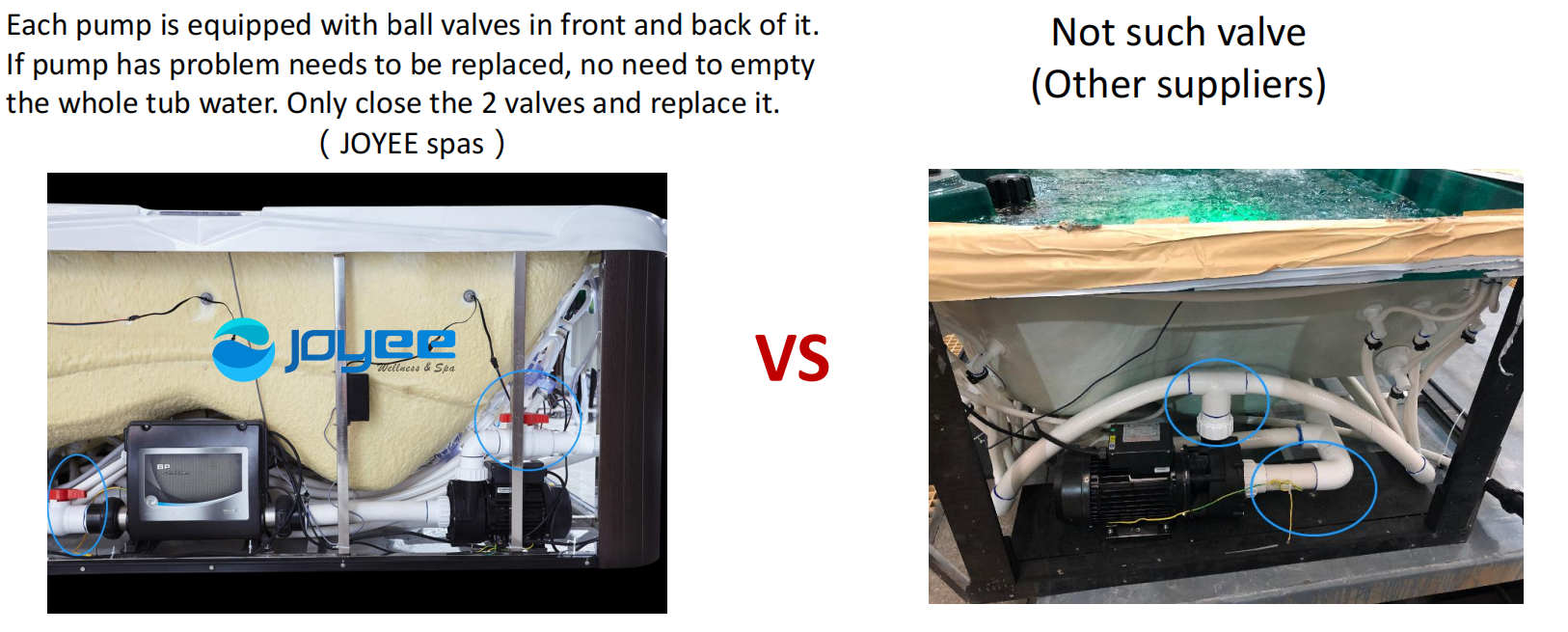 For each pump in JOYEE spas, it is equipped with strong ball valves both in front of pump and its back. User no
need to drain all the spa water in case the pump got problem. We pay attention to quality and details.

4.BOTTOM BASE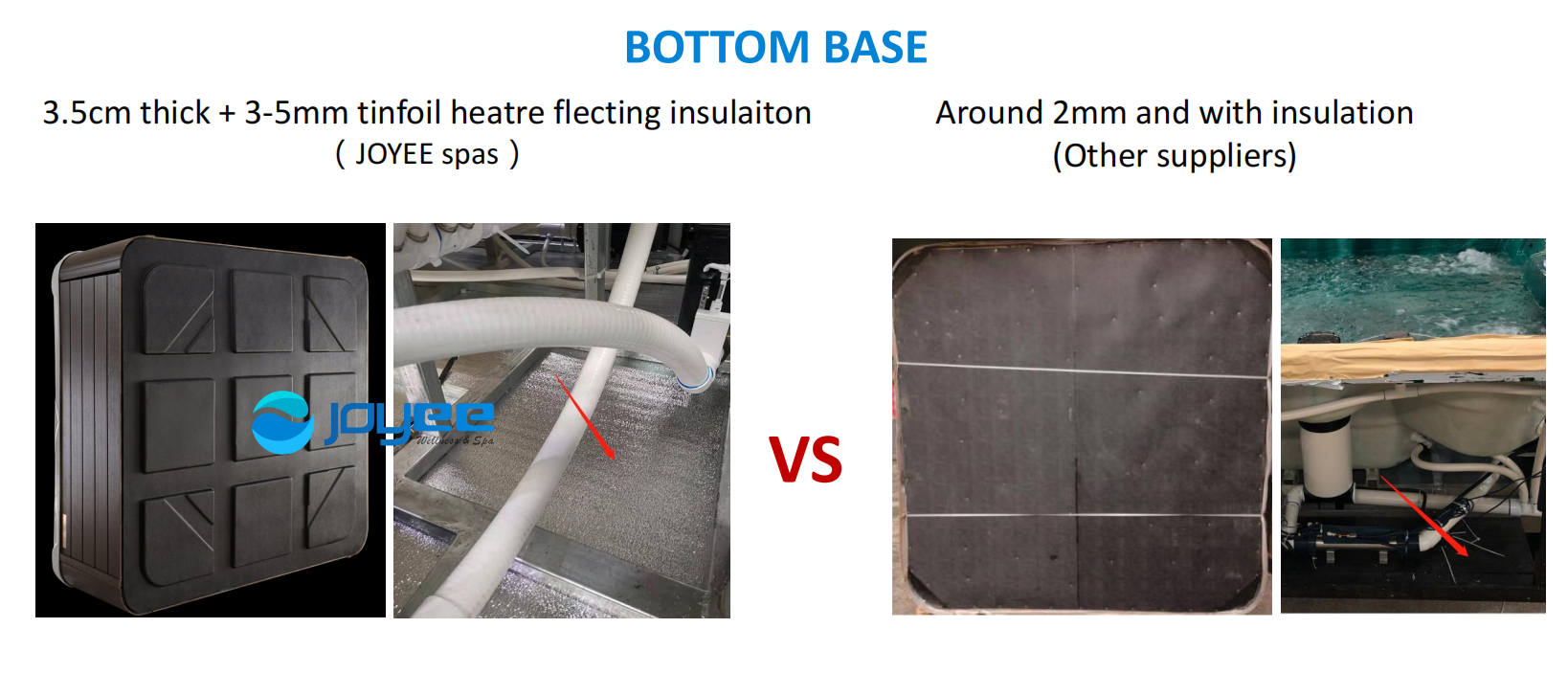 All of of spa use ABS bottom base, and it is 3.5cm thick and inside with 3-5mm tinfoil heatre flecting insulaiton,
but other supplier only use 2mm-thick ABS bottom panel. Our strong and thick ABS is ensuring that no moisture
from below can penetrate the hot tub. In addition every little heat loss or heat sink is noticed.

5.HIGH-EFFICIENCY OZONE INJECTOR AND MIXER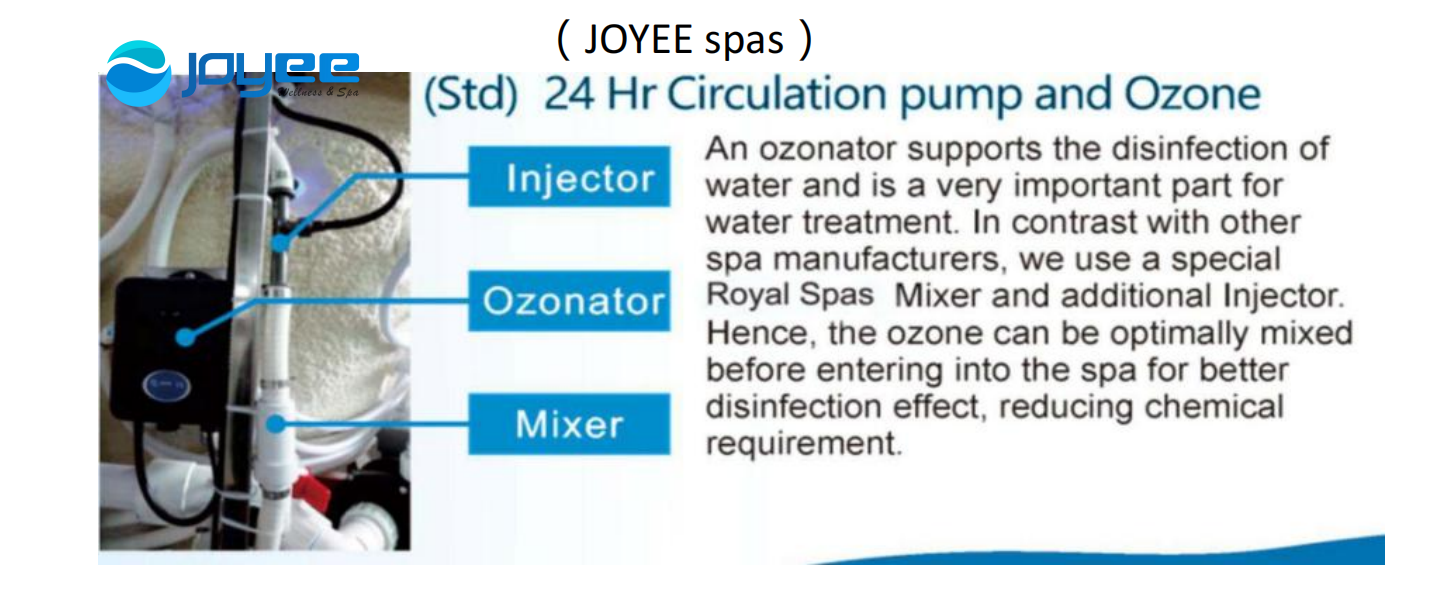 The most of other China spa manufacturerdoes not have ozone injector and mixter, they only have the ozonator.
Then the ozone does not mix well into water, so the disinfection effect will be poor. JOYEE spas make use of an
ozonator for watertreatment systems as they help destroy bacteria, viruses and algae that might appear inthe water
of your spa. Helping to ensureyour customers'overall health and safe experience, we set up an ozonator systemthat
combines effective filtering, water circulation and water skimming processes. Enjoy reduced levels of chlorine that
make spa water safe and sanitized.

6.100% NO LEAKING PLUMBING AND NEAT PIPE DISTRIBUTION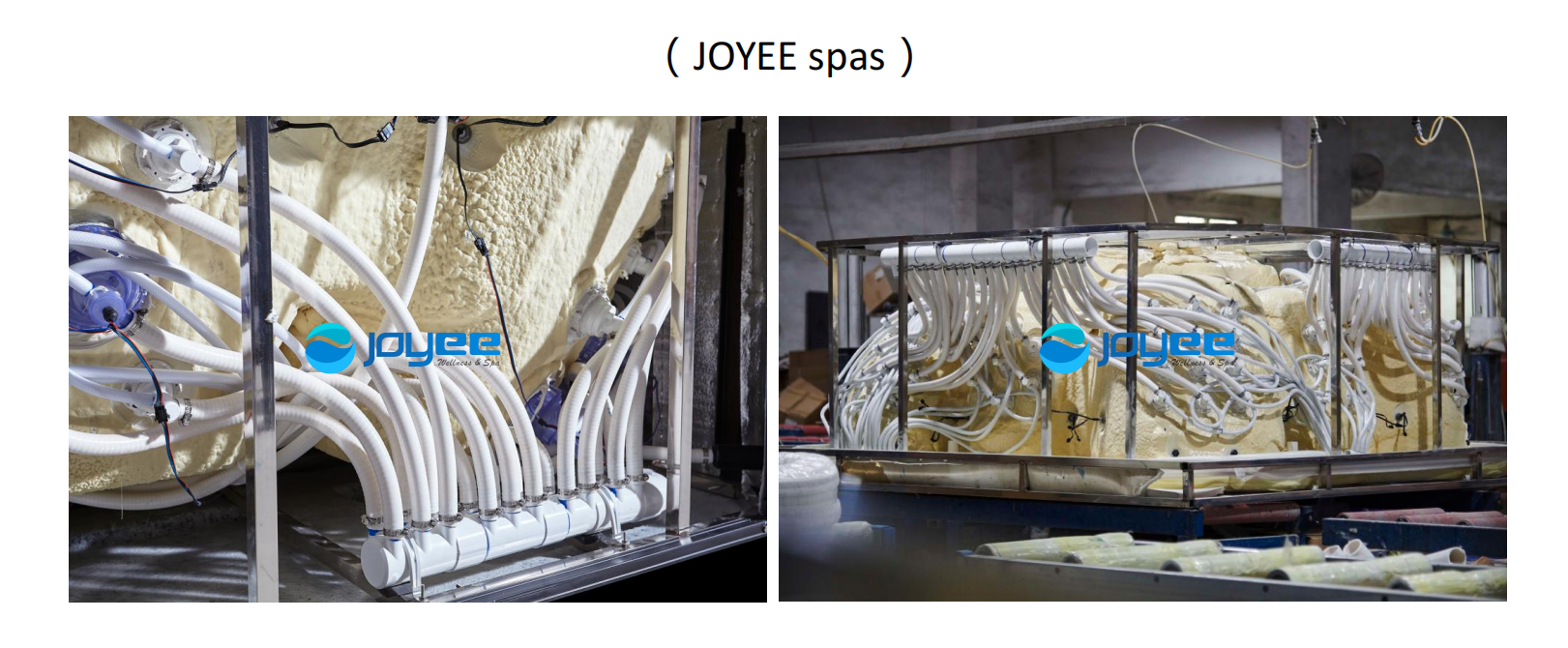 We fix the pipes with imported blue glue and then tighten with the stainless steel clamp. It has double security
to avoid any minor leaking.

JOYEE SPAS | Model: London