Everyone knows that an outdoor spa hot tub originated in the United States, but there are many hot tub manufacturers
in China at present. The quality and price of different manufacturers are different. So, it's important to learn how to buy a hot tub. We think the follow 13 points can help you very much.
1. USA import acrylic and China made acrylic
The shell is an important part of the hot tub. JOYEE Spa is uncompromising and working exclusively with Aristech Acrylic top quality from America. Great value is placed on: Durable, Beautiful and easy to clean spa surface.
When you use China acrylic of hot tub & jacuzzi for two or three years, it is easy to become yellow, fade, crack and bubble.
The following pictures are really actual color for your reference. Hope it can help you how to distinguish between imported Aristech acrylic and other normal acrylic.
JOYEE
Spa Hot Tub USA Aristech acrylic shell actual color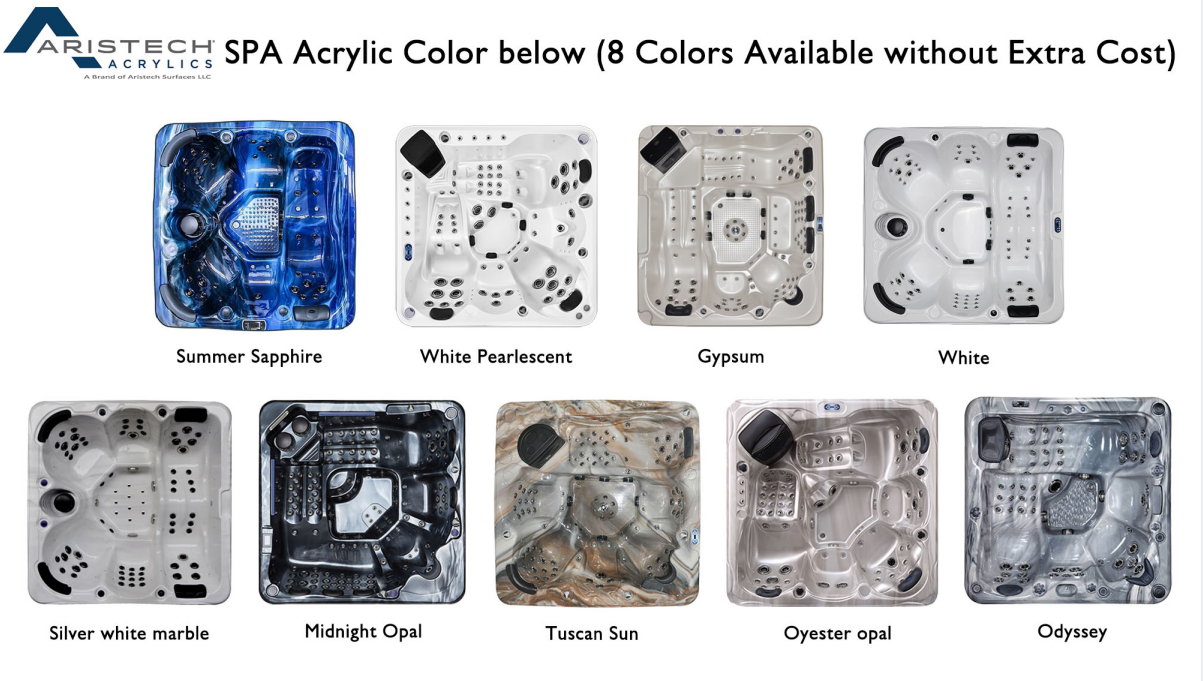 American Aristech acrylic color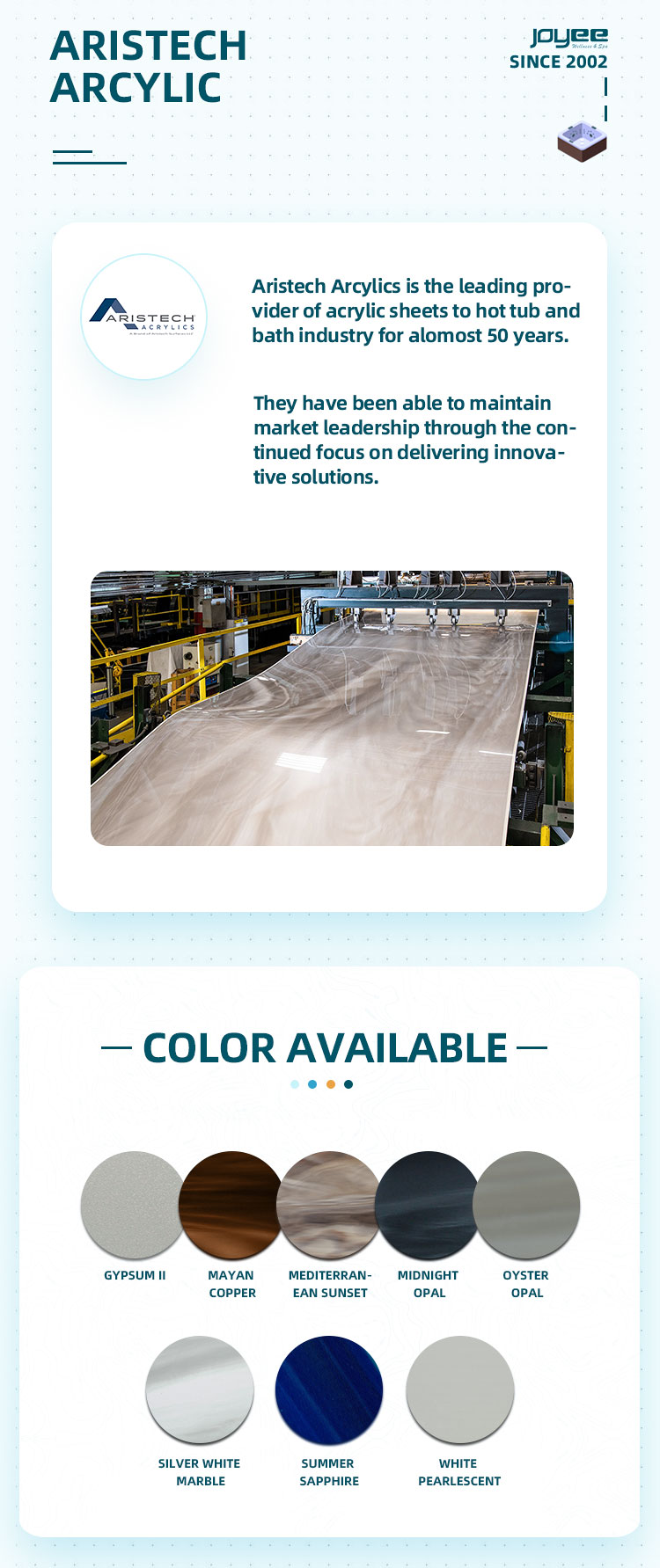 2. USA Balboa Control System
The USA made Balboa control system for heat, filter, and pumps is the most reliable in the world, we exclusively only fit Balboa control products with full factory design support. You can be according to your need to choose your favorite control for custom your own hot tub & swim spa.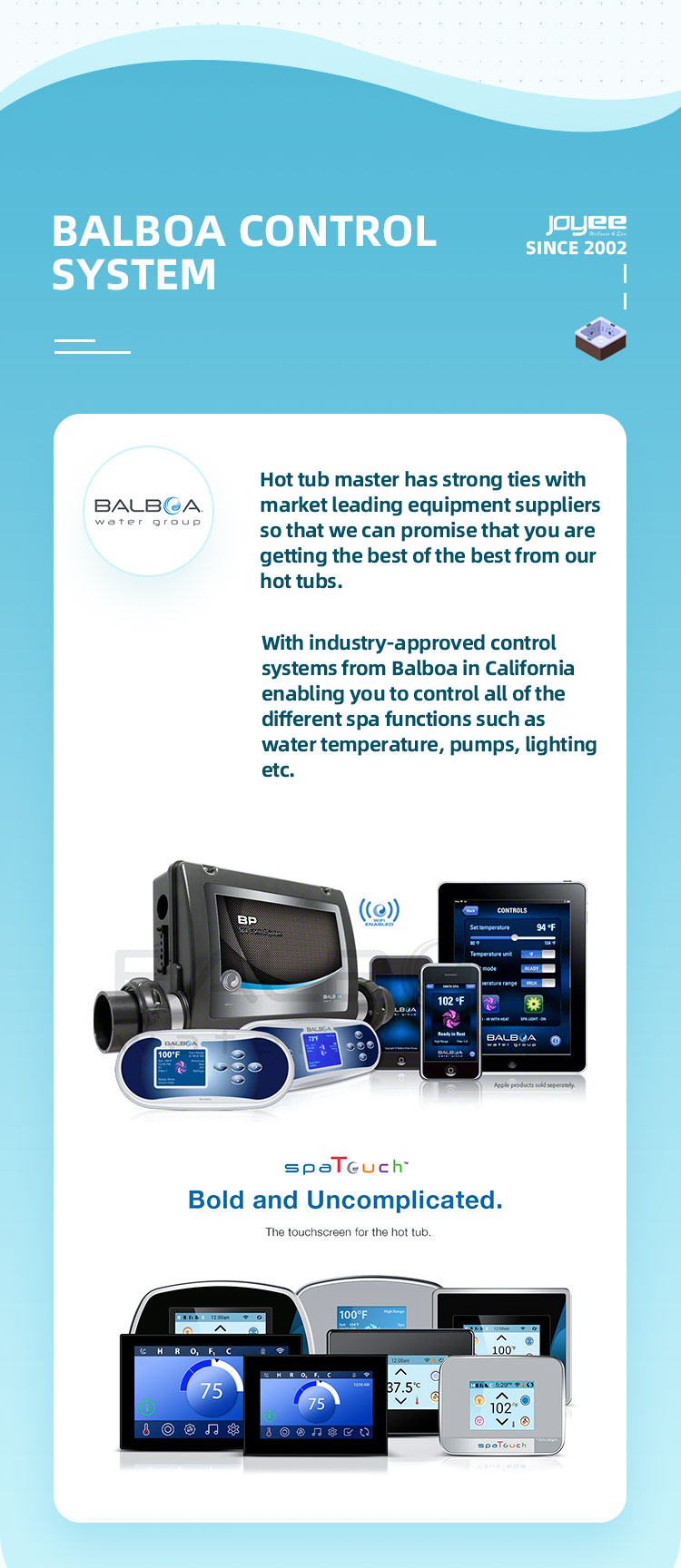 3.Insulation for Nordic winner
Do you want to save more energy when you use a hot tub spa? If yes,
JOYEE
Spa can help you.
A. Shell insulation
Hot tub body forming: For each
JOYEE
spa, the entire hot tub body is covered with
20
mm high-density polyurethane insulation foam for better insulation performance.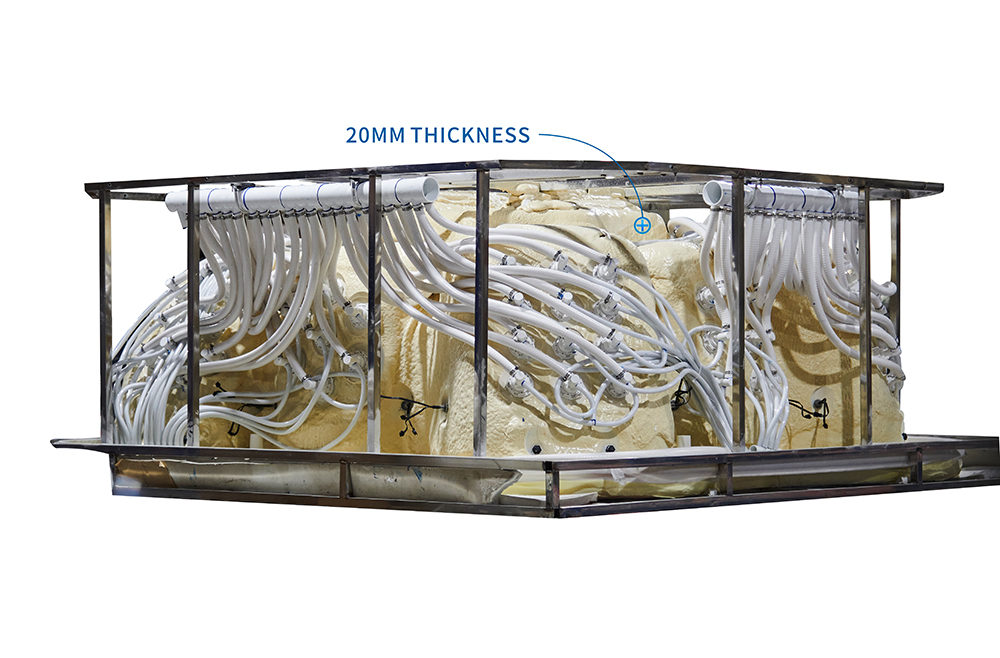 B. Cabinet(skirt) insulation
The inner side of the hot tub cabinet is covered with 25mm-thick t
infoil insulation insulation. Nordic heat lock principalssave energy over most hot tub.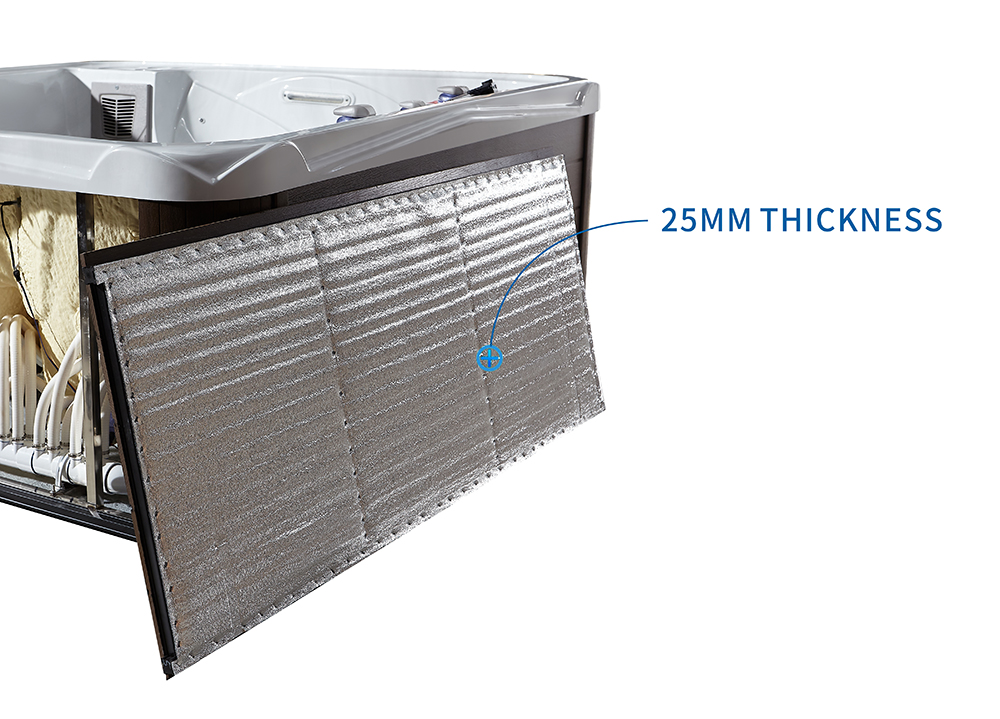 C. ABS sealed bottom base
The strong stable 35mm ABS insulated base plate is ensuring that no moisture from below can penetrate the outdoor spa hot tub. In addition, very little heat loss or heat sink is noticed. Of couse, you can put the hot tub in ground too.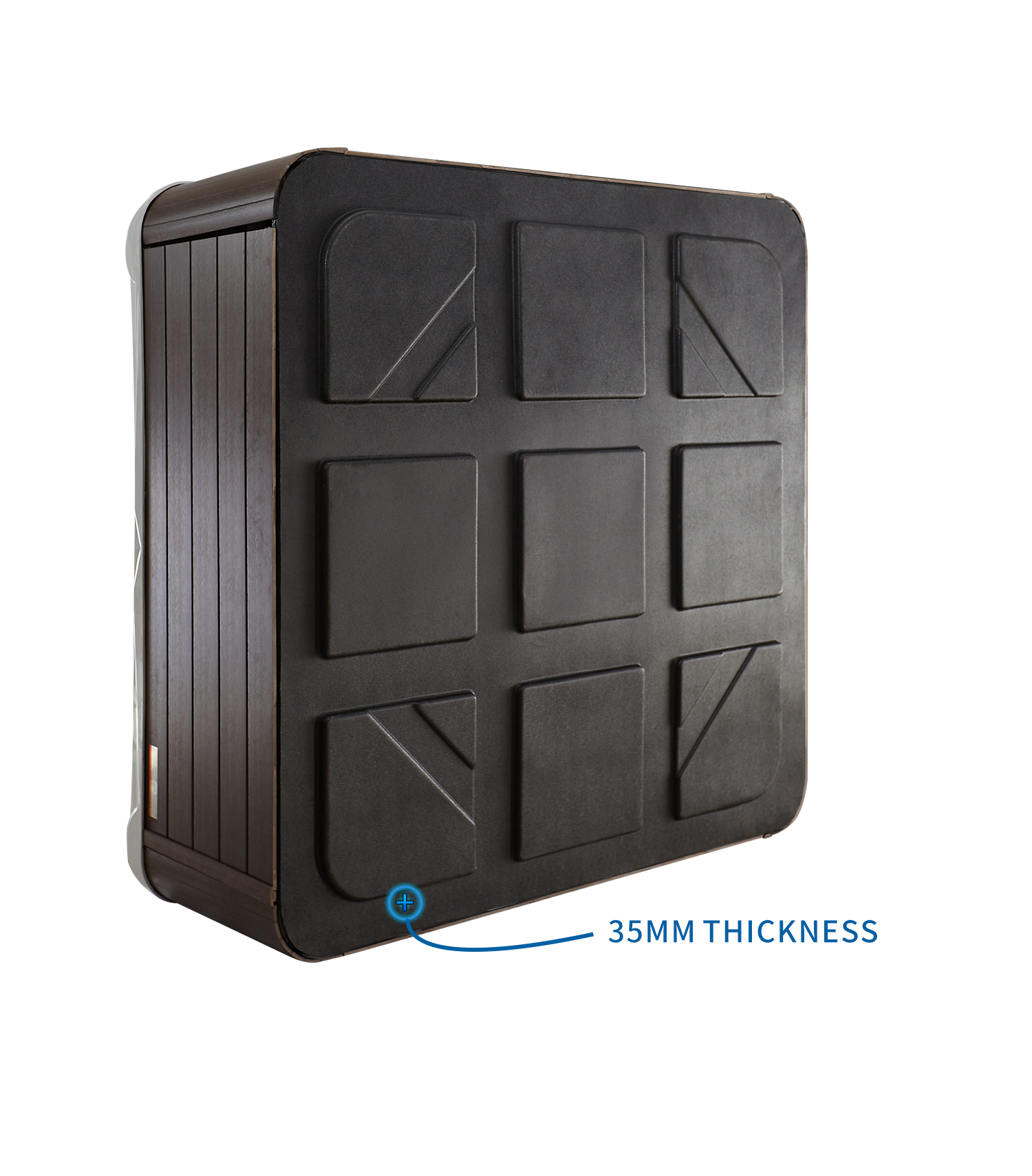 D. Additional hot tub spa insulation for frame
In order to maximize the insulation performance, we also have further hot tub spa insulation mats installed in the intermediate space between the stainless-steel frame. Your wallet will thank you for it.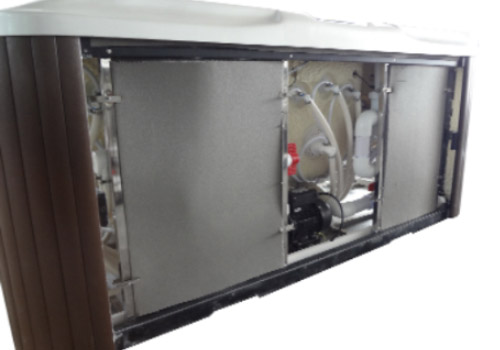 E. Additional bottom base insulation
Additional
10mm tin
foil insulation for
ABS
bottom base is also available for better looking and insulation performance.In particularly cold countries, we will recommend customers to increase this layer of insulation.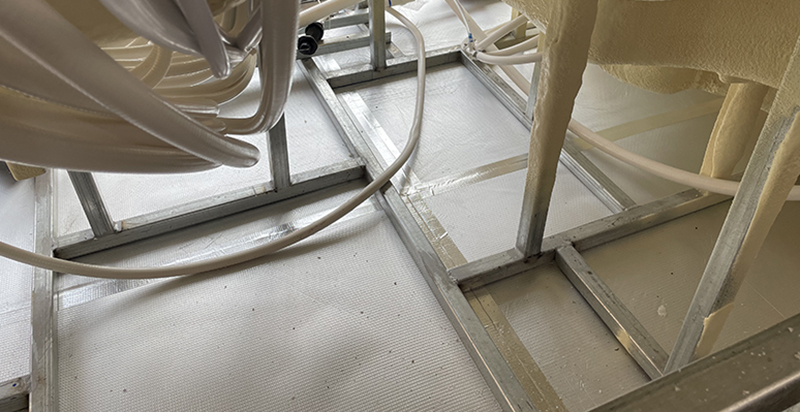 In summary, you can know clearly the insulation advantages of our hot tub spa jacuzzi. But many China spa manufacturers does not have shell and skirt insulation, or only 5mm shell insulation and 2mm ABS bottom base. Then the insulation performance will be very poor and cost more energy.
4. Filtration system- no by-pass filtration
JOYEE Spa makes use of an ozone generator for water treatment systems as they help destroy bacteria, viruses and algae that might appear in the water of your hot tub spa. Helping to ensure your customers' overall health and safety experience, we set up an ozone system that combines effective filtering, water purification, water circulation, and water skimming processes. Enjoy reduced levels of chlorine that make hot tub spa water safe and sanitized and that does not result in a constant residual chlorine level which could harm the pool. The most of other China outdoor spa manufacture does not have ozone injector and mixer, they only have the ozone generator. Then the ozone does not mix well into the water, so the disinfection effect will be poor.

Besides, we offer a UV disinfection system as an option for our customers, the UV treats 99.9% of waterborne pathogens.

Each JOYEE Spa model is equipped independent 0.35HP circulation pump, but many China spa manufacturers use a 2-speed pump for circulation and massage. It is a big maintenance cost when the 2-speed pump is broken. As it needs to change it all. So we don't recommend a 2-speed pump for the outdoor spa.

5. 100% no leadking plumbing
JOYEE
spa jacuzzi fix the pipes with imported blue glue and then tighten with the stainless-steel clamp. It has double security to avoid any minor leaking. But many China manufactures don't use a clamp or less clamp to clamp the water pipe.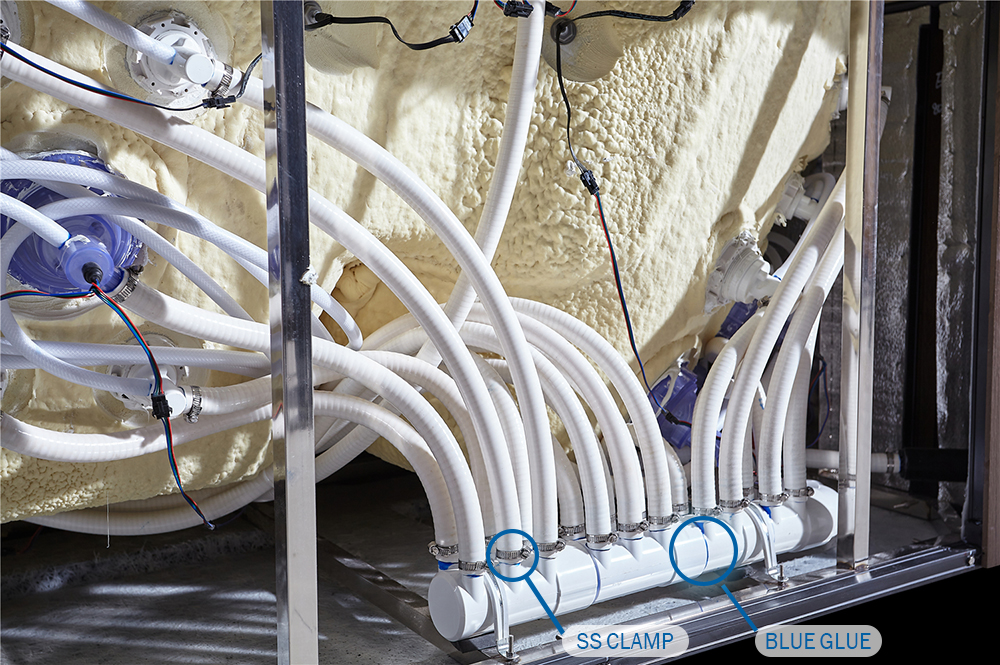 6. Spa bottom/ side drainer
Every
JOYEE
spa has the drain
er
valve and bottom drain
er/side drainer
as standard and has the exclusive draining plumbing system: its pipe is appr. 15cm higher from the bottom and all the pipes are connected to the drain valve on the skirt. So more than 99% of water inside the outdoor spa and pipes can be emptied when people want to dry the outdoor spa. And the control system comes with an automatic anti-freezing system, so you don't need to worried that your spa and pipe will freeze in winter.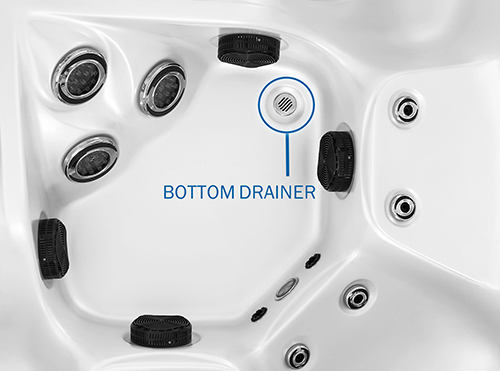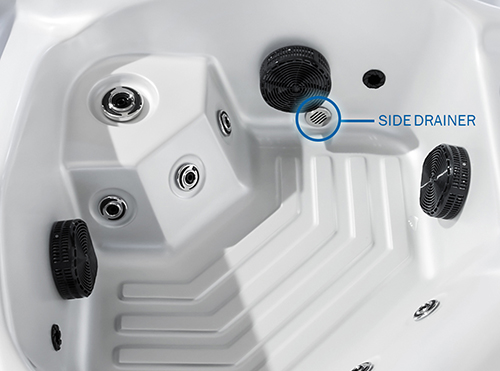 7. Hot tub pump
Each
JOYEE
spa model is equipped with China's famous LX brand pump as standard, and we offer Canada
DXD
brand pump as option for you too.

8. Ball valves front and back of each spa pump
For each pump in the JOYEE Spa hot tub, it is equipped with strong ball valves both in front of the pump and its back. Users no need to drain all the outdoor spa water in case the pump got a problem. Only close the 2 valves and replace it. But the most of China manufactures no such ball valves.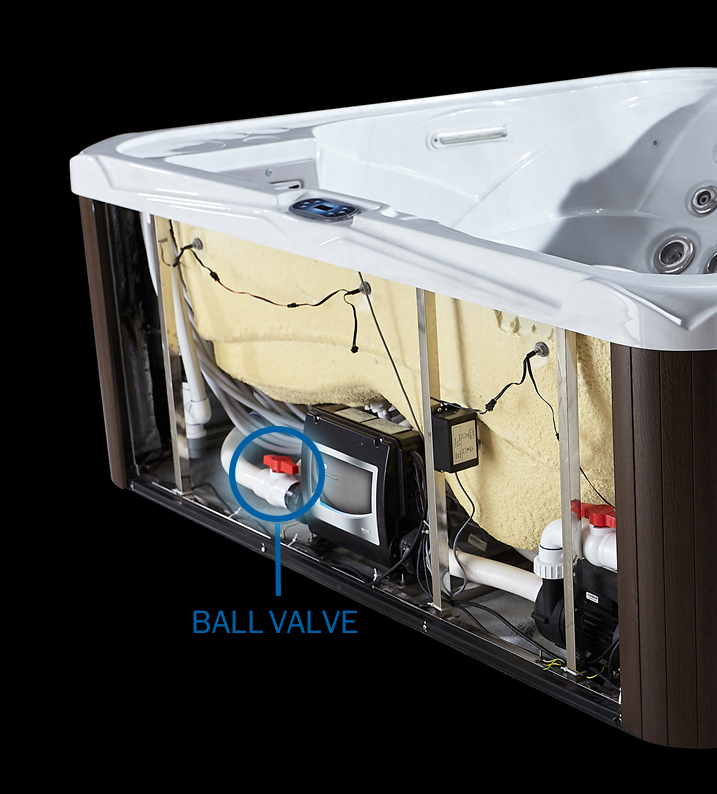 9. Stainless steel frame and elegant cable slot
Many China supplier use a wooden frame for the hot tub, but
JOYEE
Spa use #304 stainless steel frame support every outdoor spa seat that can keep the spa stronger. And you can check our stainless-steel frame are very clean and neat, it looks more luxurious and beautiful than others.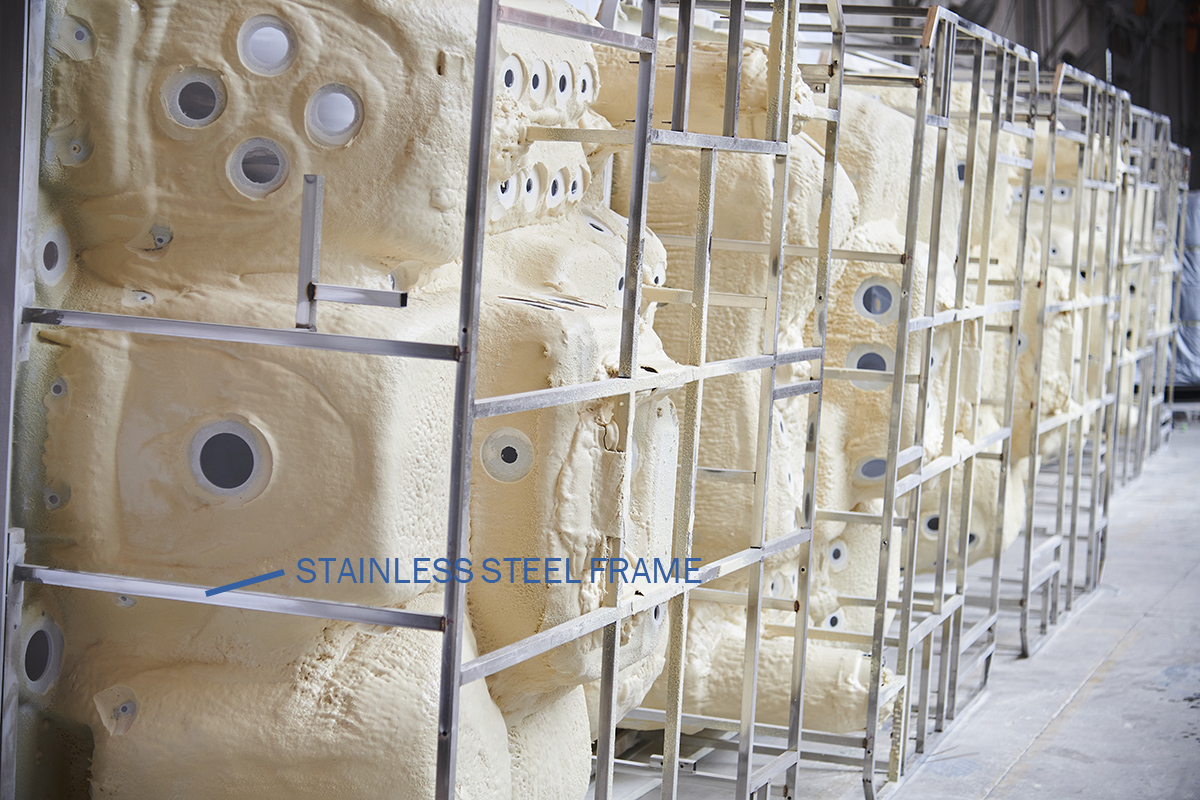 10. Stainless Steel Jets
In order to create various massage effects, many therapy water jets are available. In addition, the water jets arrangement is different for each individual massage seat. You will enjoy multiple massage types over each part of the body around the outdoor spa. We offer four different types of deep therapy water jets.
In normal, the stainless-steel jets are options in many China manufacturers. They would to use the plastic jet instead of the stainless steel jet. JOYEE spa tub jets adapt #361 stainless steel massage jets, which have better effect than #304 and #201 stainless steel, it can prevent thermal expansion and contraction as the weather changes.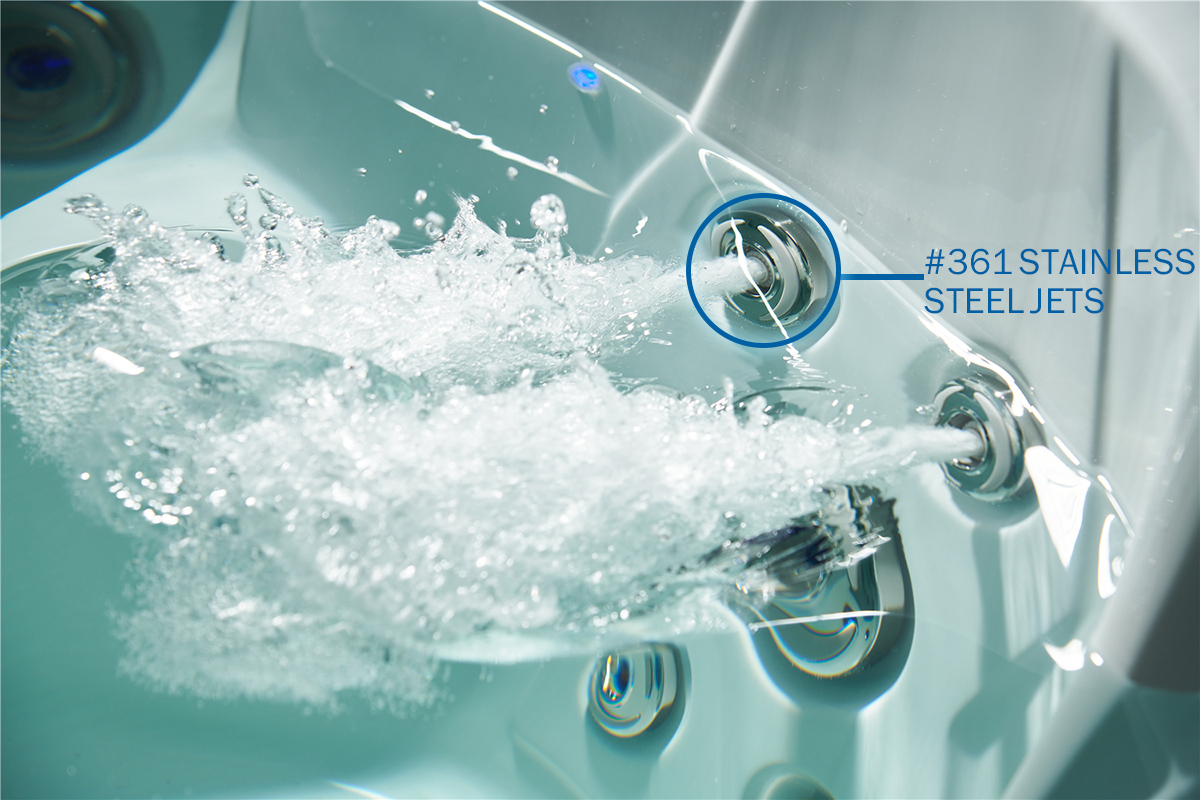 11. Hot Tub Spa LED lighting
A highlight of the
JOYEE
spa is the lighting. In addition to the pure color led which are incorporated into the spa shell, air jets and water jets are additionally equipped with led. A perfect vision of color and water is produced. Let yourself be inspired by the intensity of our unique lighting!
In normal, the mini seven color perimeter LED lights are an option for other China spa manufactures too. If you like a luxury and beautiful and charming spa, please add this option.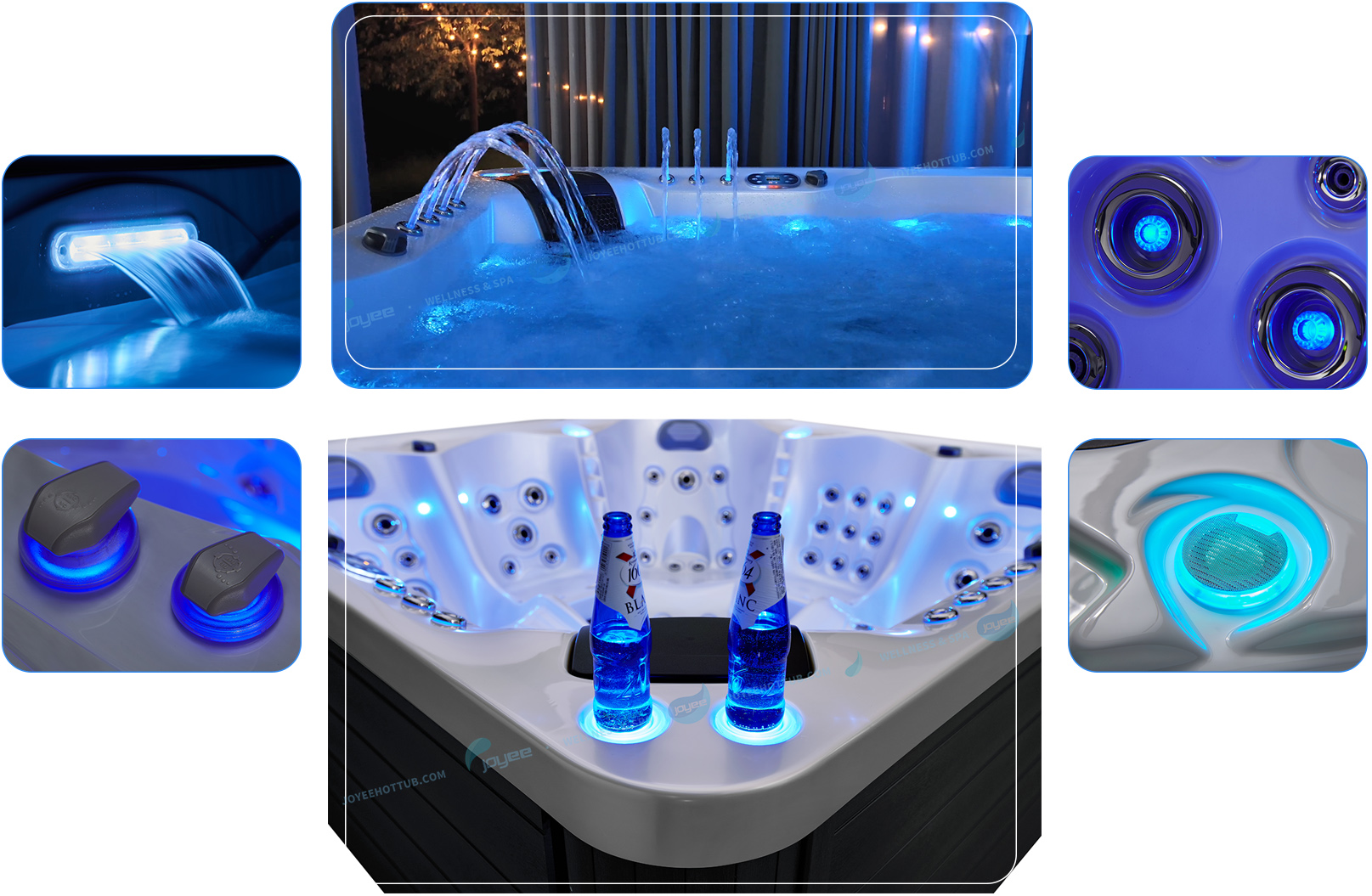 12.Can provide OEM/ ODM service
Generally, suppliers who can provide OEM/ODM services are more professional, proving that they have rich experience in this industry and have professional R&D and production teams.
We could design new spa mould and LOGO moulds for you to set up your own brand. With your own brand on the products, it will be greatly good for the selling
.JOYEE spa
provide
you 5 methods to set up your own brand, you can choose all or just one of them
(Please contact us for details)
.

13.Strong safe package
JOYEE
spa uses a waterproof woven spa protection bag with a wooden pallet to pack the hot tub spa for you, the strong pallet can keep your spa safe during shipping and transportation.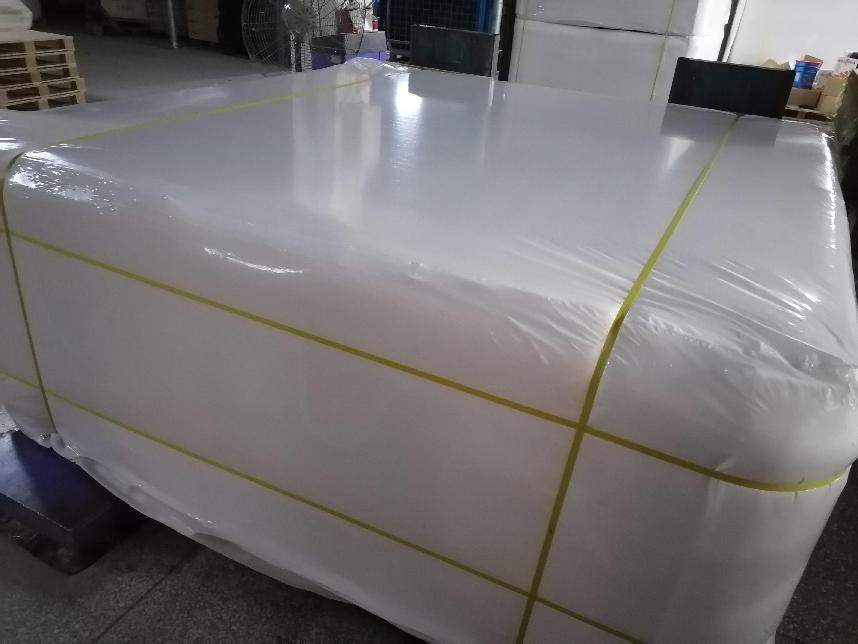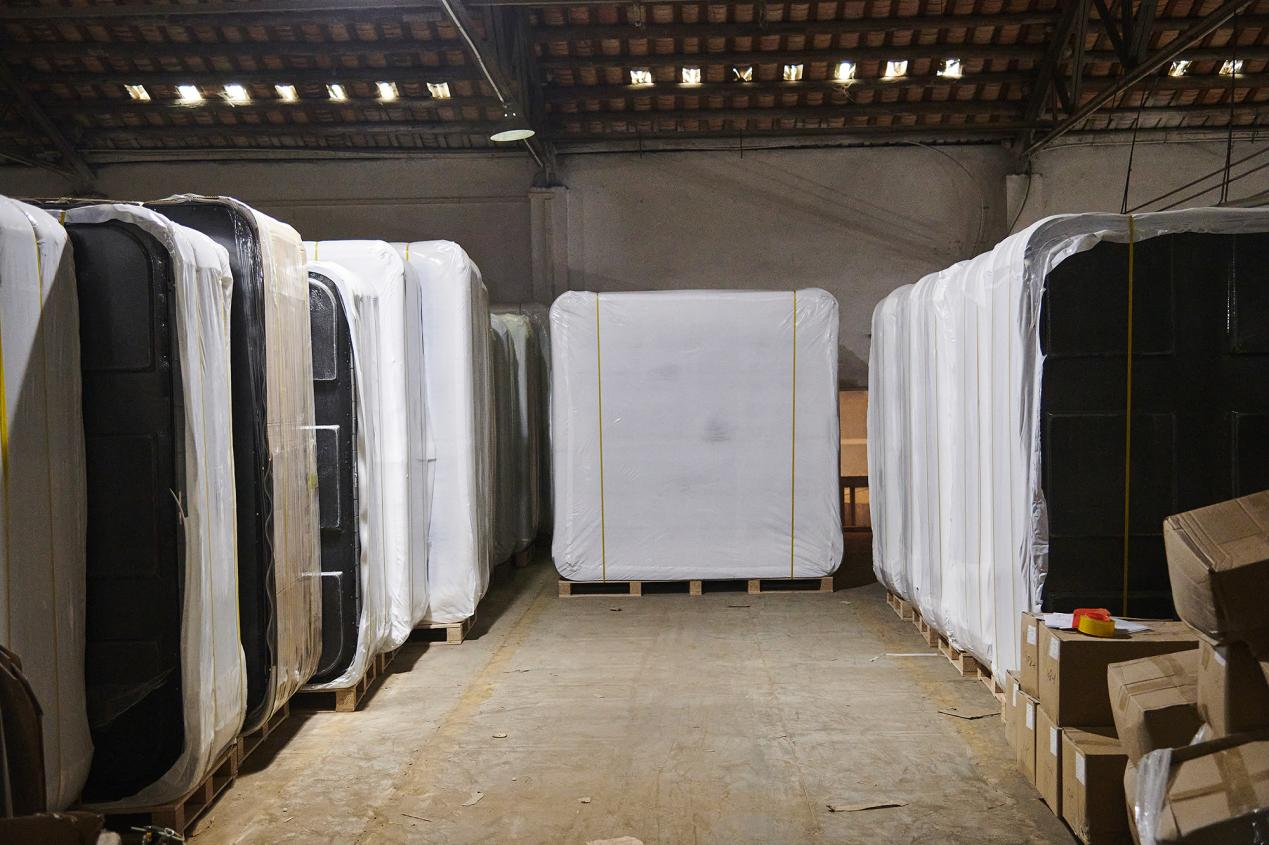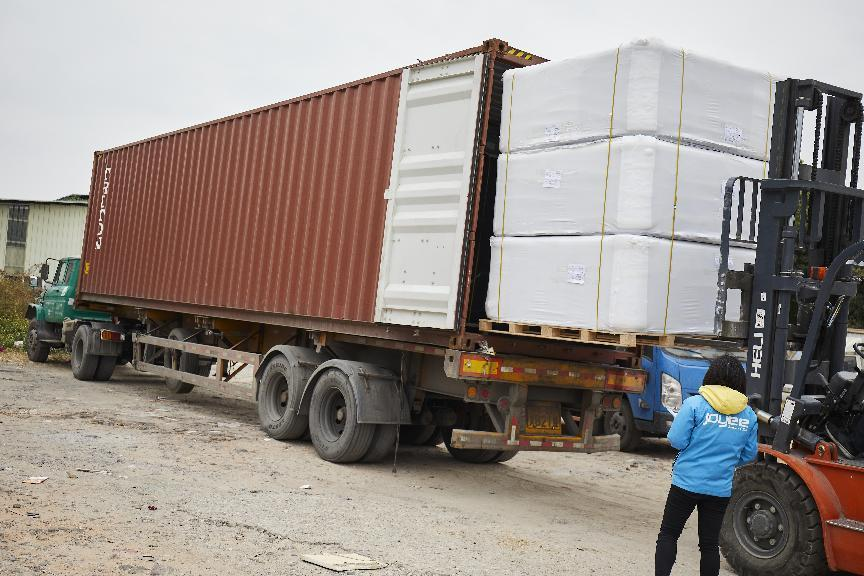 14. Long warranty(guarantee)
JOYEE
Spa Jacuzzi offers 2-
7
Years subject to different parts. If any parts are broken during the warranty, 7 years for structure; 3 years on the spa shell, 2 years for electrical motor, control system and plumbing
.
If you have any questions about outdoor spa hot tub choosing, you can contact us by phone on
0086-1
81-2210-6705
or email us at
info@joyeehottub.com